PLEASE READ THE CLOSURE SECTION BEFORE VENTURING INTO THE BOSQUE OR OTHER RECREATIONAL AREAS
CITY OF ALBUQUERQUE OPEN SPACE DIVISION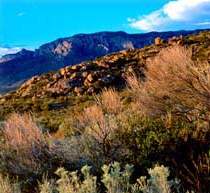 Open Space works to acquire and protect the natural character of land designated as major public Open Space in the 1988 revised City of Albuquerque Comprehensive Plan. These lands, which are comprised of over 28,000 acres in and around Albuquerque, are managed to conserve natural and archeological resources, provide opportunities for outdoor education, provide a place for high and low impact recreation, and define the edges of the urban environment.
Officers from the Albuquerque Police Department patrol Open Space areas by foot, vehicle, horseback, and mountain bicycle. These fully commissioned law enforcement officers make contact with the public to educate and oversee compliance with rules and regulations. Their dual mission is to protect the Open Space lands and resources while ensuring a safe and enjoyable visit. In addition to these officers, Open Space lands are regularly monitored by volunteers, who are trained to observe and protect the natural characteristics of the environment.
BERNALILLO COUNTY OPEN SPACE
Bernalillo County Open Space strives to be a dynamic network of properties with important natural or cultural resources. The land is managed to benefit people, plants and wildlife by protecting and enhancing viewsheds, water resources, wildlife habitat, cultural/historical sites, and prime agricultural land; and providing resource-based recreation and environmental education.
Bernalillo County Open Space Mission:
These lands are acquired and managed to conserve natural and cultural resources, and provide opportunities for education and recreation and to shape the urban environment.
CORRALES BOSQUE PRESERVE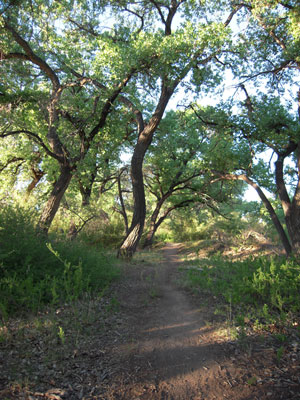 The Corrales Bosque Preserve is a narrow riverside strip of relatively natural cottonwood forest and associated habitats along the Rio Grande within the boundaries of the Village of Corrales that is managed by the Village as a Wildlife Preserve according to Village Ordinance 234. It is located between the river and the levee and is bounded on the north by the Corrales Siphon and on the south by the Alameda Bridge.
What is a "bosque"? It is a Spanish word meaning forest or woodland, used here to describe a forest or woodland on the riparian floodplain. The Village of Corrales recognized the value of the bosque and annexed it into the Village in 1975; in 1978 it was declared a protected area. The mission of the Corrales Bosque Preserve, stated in Ordinance 234, is to preserve and protect the natural and native conditions, habitat, and wildlife in the Preserve in order to assure that an increasing human population does not adversely affect or otherwise change the Rio Grande bosque within the village, leaving no areas preserved and protected in their natural condition.
MRGCD's Irrigation Systems Operators (ISO) are most in tune with middle Rio Grande valley water users and their needs and expectations. Their focus is working with water users to ensure water is delivered in a timely and equitable fashion. In order to keep ISO's...