Bosque Vehicle Access Permit
BOSQUE VEHICLE ACCESS PERMITS FOR 2023-2024 NOW AVAILABLE AT MRGCD ALBUQUERQUE OFFICE ONLY
As of April 6th, 2023, the entire Bosque is open through the middle Rio Grande valley. The Bosque is a rare riparian forest that provides important wildlife habitat. Therefore, motor vehicle use in the Bosque is restricted to levee roads in order to reduce damage to soil, plants, and animals. Individuals without motor vehicles are welcome to use the Bosque if they respect the Rules and Regulations of MRGCD Rule 32 – Bosque Access Policy. With the support of the public, the MRGCD hopes that these rules will allow appropriate human uses of the Bosque to continue.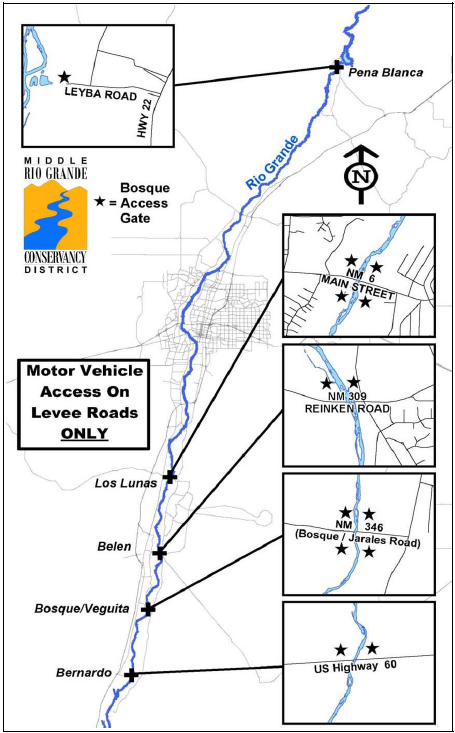 Bosque Access permits and keys will only be available at the MRGCD General Office located at: 1931 Second Street SW, Albuquerque, NM 87107.
Keys may be checked out for the remainder of the Bosque Access permit period.  Permits will expire on March 31, 2024.
A separate permit, key, and fee will be required for each area.  Individuals may check out keys for the Valencia and Northern Socorro Counties and/or Peña Blanca.
To report non-emergency land issues, please contact the MRGCD at: 505-247-0234 or licensing@mrgcd.us.  To report a bosque fire or emergency please call 911.
Permit application forms can be submitted online to assessments@mrgcd.us or submitted in person at the Albuquerque General Office. 
Please read and review the Bosque Access Policy Rules and Regulations before applying for a permit: 
Release issued: 08/28/2023 Albuquerque, NM – For the second time in 40 years, the Rio Grande will likely run dry in Albuquerque. High temperatures, lack of rainfall and inability to store adequate supplemental water, have contributed to the onset of a dryer-than-usual...