Water Distribution Division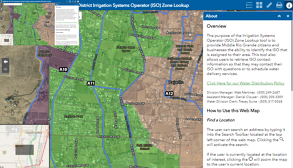 Click to learn: WHO IS MY ISO?
Your Irrigation Systems Operator (ISO) is here to ensure that scheduled water is routed to you. Scheduling helps us give the same quality of service to each irrigator, therefore all water deliveries must be scheduled through your ISO at least 24 hours in advance. Requested delivery times may not always be available but longer notice, up to 7 days, increases the possibility that preferences can be accommodated.
For questions or scheduling please call or text message your ISO. Click the ISO Search Tool above to find the ISO in your area.
Click Here for our Water Distribution Policy
Division Manager : Matt Martinez (505) 249-2687
Water Div Clerk : TBD
SUPERVISOR

ZONE

ISO NAME

PHONE

SERVICE AREA
RAYDELL LATOMA 505-249-6057
C01
MASEWA MODY

  505-249-0653

Pena Blanca, Cochiti

C02

TBD

 505-249-6173

Sile, Cochiti, Santo Domingo
C03
TBD

 505-249-6057

San Felipe, Algodones, Santa Ana

C04

TBD

505-331-9275

San Felipe

C05

DEAN MONTOYA

505-249-0097

 Santo Domingo
JOHNNY APODACA 505-249-4435

A02

JAVIN VELASQUEZ

505-249-3586

 Bernalillo, Santa Ana, Sandia

A03

BOBBY WAGNER JR

 505-249-5904

Corrales

A04

JOHN CASIAS

 505-249-4582

 North Valley – East of river

A05

HENRY SANCHEZ

 505-249-5205

 Alameda, Los Ranchos

A07

TBD

 505-249-3473

 Duranes

A13

TIM CHAVEZ

 505-225-4402

 North Valley – East & West of river
ANTHONY LOVATO 505-208-1790

A08

DONALD MONTOYA

 505-249-3350

 Atrisco

A09

ANDERSON TOLTH

 505-249-4272

  South Valley – west of river

A10

ALBERTO MELENDEZ

 505-249-5940

 South Valley – east of river

A11

DANIEL BARRAZA

 505-249-0050

 far South Valley – west of river

A12

KALVIN ZUNI

 505-249-6056

 Isleta Dam Tender, South Valley, Los Padillas
MIKE APODACA 505-239-5111

Eastside

B01

DARRICK CHAVEZ

 505-459-6090

 Eastside (BF, Edeal Rd)

B02

ANTHONY VALADEZ

 505-459-6662

 Eastside (BF, Peralta)

B03

BRANDON HUGHES

 505-366-8853

 Eastside (Hells Canyon BF – Tome)

B07

TBD

 505-459-9205

 Valencia, Tome, Las Cercas Acequia, La Constancia Acequia

B08

BRUCE GONZALEZ

 505-401-9707

 Tome, Peralta Main Canal, Tome Acequia

B13

TBD

 505-450-7352

 Eastside (San Juan main, Las Nutrias area)

B14

LARRY ACOSTA

 505-459-8020

 Dam Keeper (Including Chical Ext)
MIKE APODACA 505-239-5111

Westside

B04

TYLER SWINT

 505-459-1899

 Westside (Harlan, Arroyo, Los Chavez)

B05

DOMINIC CONTERAS

 505-480-2188

 (New Belen, Highline)

B09

LEE MONTOYA

 505-459-1220

 Westside (LL Los Chavez Prison)

B06

ANDREW ORTEGA

 505-459-6300

 Westside (Los Chavez, Gabaldon)

B10

SHAWN VANDECAR

 505-450-9477

 Westside (Old & New Jarales)

B11

DAKKEN BASS

 505-238-4606

 Westside (Garcia Ext)

B12

WALTER MARTINEZ

 505-459-2448

 Westside (Jaral 1 & 2, Sabinal Garcia Lat)
THOMAS PADILLA 575-418-0860

S01

CHAD LeSUEUR

 575-518-8151

 San Acacia, Alamillo Acequia, Socorro Main Canal

S02

ROBERT PARNELL

 575-418-0796

 Lemitar, Polvadera, Socorro Main Canal, Lemitar Lateral

S03

 TBD

 575-418-0795

 Socorro, Luis Lopez Ditch, Socorro Main Canal, Jaral Lateral

S04

MATTHEW HARRIS

575-418-0794

San Antonio, Socorro South Main Canal, Mosley, Apodaca, Flores